How our #1-selling salad came to life.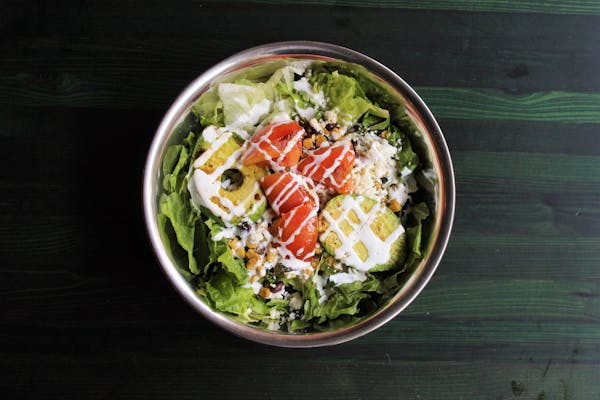 It was a cold, dark, miserable existence until the Grilled Avocado Salad came into this world. That's probably a little dramatic, but it sure does seem like this salad brought a new perspective to a lot of people who never ate salads before. Like many of our salads, it was originally introduced as a Featured Salad. After it rotated off the limited-time only status, our guests quickly complained that their new favorite wasn't offered any more. Knowing that we were on to something, the next menu printing included the Grilled Avocado Salad, along with our staples like the Cobb, Barbecue Ranch Chicken, and Texas Taco salads. What we didn't know was that this would soon become our signature salad.
The legend goes like this: Grilling romaine lettuce for a Caesar Salad was gaining some traction in the food magazines. With a little creative thought, the avocado was placed on the grill to see what would happen. It wasn't quite magic, but it was quite tasty. After a good dunk in some extra virgin olive flavored with herbs and spices, the abracadabra was there. Magic.
Knowing that people from Texas like a little kick in their food, chipotle was added to a fresh-made batch of lime vinaigrette. Again, good, but it needed a little more of something. With blender at full speed, the lime vinaigrette got a handful of cilantro and green onion. Boom.
Now with the avocado and the dressing just right, the rest of the salad had to step it up too. Looking at how this salad was coming together, black beans and corn seemed like a natural fit. With a sauté pan nearby, black beans, corn, green onion, and diced poblano join forces for a dynamic relish.
Every salad starts with the good foundation of lettuce. Red leaf added some color to the salad. But considering that everything so far lacked a crunch, iceberg was added.
We assembled the salad and it looked like it still needed something. Serendipitously, we had just received some beautiful 4X5 tomatoes by mistake. We couldn't use these big tomatoes on the line and, therefore, decided to put a thick slice on the top. It looked good but didn't quite fit. Soon thereafter the sliced tomato was also being grilled using the same spiced oil as the avocado. It elevated that tomato to supporting-actor status.
A few bites into this new salad, we decided it needed some cheese to cut the acidity of the tomato and Chipotle-Lime Vinaigrette. Queso fresco was added.
We were almost there. So far, we had red leaf and iceberg lettuce, relish, grilled tomato and avocado, and queso fresco. After a fresh squeeze of lime over the avocado and an artistic drizzle of Mexican crema, the Grilled Avocado Salad was born. This salad not only looks fantastic, it tastes like a million bucks.
The only other change we have made since is that we now griddle the avocado and tomato. After losing quite a few avocados and tomatoes between the grates, we figured that griddling is just as good as grilling if not better.
People ask for the recipe for this salad all the time. Little do they know that it requires the preparation of eight items, a blender, grill, sauté pan, bowl, tongs, citrus squeezer, knife, spoon, and time. Sure, you can do all of that at home, but why not just swing by instead?
The best thing about this salad is that it'll change your life. Guests have repeatedly told us that they didn't eat salads until they tried this one. And for those salad-eating guests who have never had a Grilled Avocado Salad, you can't say that you've been to Snappy Salads until you do. Don't think it's true? Come on in and give it a try. It's our number-one-selling salad for a reason.
You can watch how it is made by clicking here: Grilled Avocado Salad.